Friday the 3rd of March, is Employee Appreciation Day, and this year marks our third annual RG Thank You Festival to celebrate our employees.
The RG Thank You Festival aims to increase positive wellbeing, morale and engagement by providing a unique, memorable shared experience. Celebrated on the week of Employee Appreciation Day, it's our time to send a huge thank you to every RGer around the world and show them how much we appreciate them. .
Last year, our event focused on benefits as a means of appreciation. This year we're expanding our event to encompass more ways we appreciate our people, specifically as it relates to our wellbeing through celebrating our RG HEART. Read on for all of the ways we plan to celebrate our employees this year.


Global Plans for the Thank You Festival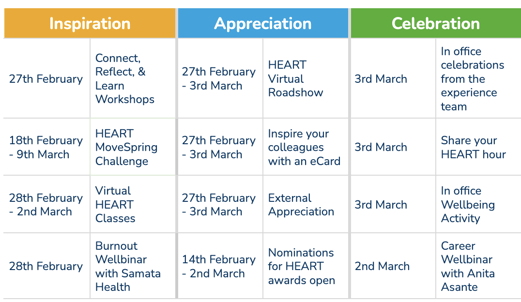 Connect, Reflect, & Learn Workshop:

Supporting our employees' Mental Wellbeing

These workshops are designed to give employees the dedicated space to connect, learn and reflect together. Guided by a qualified Sanctus Coach or Jan McLeod in Austrailia, the Connect + Reflect workshops help employees to share and process their thoughts and feelings - and move forward together.

Through specific prompts and expert guidance, employees are empowered to share their thoughts and experiences anonymously, which:
Supports active learning - not just from the coach, but from one another
Fosters a sense of deep connection and empathy in our hybrid world
Provides authentic, unfiltered (yet anonymous) insights on how your employees are doing, in real-time
RG HEART MoveSpring Challenge:

Supporting our employees' Physical Wellbeing

We're motivating our employees to become more resilient with our RG HEART challenge on MoveSpring! This challenge will inspire and encourage participants to take risks and overcome obstacles to achieve their goals. As participants move along the map path, they'll unlock milestones featuring videos from astronauts, rock climbers, and renowned psychologists as they share their experiences with overcoming obstacles to achieve greatness. Content featured on the app throughout the week will include a daily workout video for employees to enjoy, an overview of HEART, and links back to boom!

Burnout Wellbinar:
Supporting our employees' Family & Mental Wellbeing
30-minute workshop by Samata Health that provides insight into what burnout is, how to recognize it, & how to overcome it. Helping our employees to stress less and find balance in their everyday lives.
Career Wellbinar:
Supporting our employees' Career Wellbeing
We are thrilled to welcome Anita Asante, a retired England defensive midfielder/ centre back for a webinar wellbeing session focused on empowering individuals to achieve their career goals.
With 71 international caps under her belt, spanning 14 years, including competing for Great Britain at the 2012 Olympics, Anita is a hugely prominent figure in the footballing world. Whether it's talking about leadership, overcoming adversity, diversity, equality or being a prominent figure in the challenging world of a male dominated sport, she has a story employees will want to hear.
We use the session to
Educate our employees on how they can achieve their career goals
Empower individuals by shining a spotlight on achievements and success through adversity
Develop employees by raising profiles and giving them a platform to speak
Appreci8 eCards:
Supporting our employees' Career & Financial Wellbeing
Special festival and wellbeing themed eCards and awards. We will encourage employees to make some time in their diaries to send some meaningful messages to the special colleagues in their life! Top senders will be entered in a raffle to receive an additional boom! Award.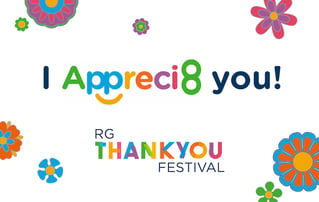 External Appreciation:
Supporting our employees' Social Wellbeing
This year, we are taking our Employee Appreciation Day festivities externally with the opportunity for employees to celebrate others outside of RG that they appreciate. We will have dedicated social cards for them to share on social networks and postcards in the office that can be shared.
HEART Awards:

Supporting our employees' Financial Wellbeing

Our HEART Awards program features recognition for extra special contributions that advance our wellbeing strategy. This aims to celebrate employees who have committed to advancing their own personal wellbeing or the wellbeing of their teams. Leaders will nominate three employees for a HEART award, and winners will be entered into a raffle for a monetary prize.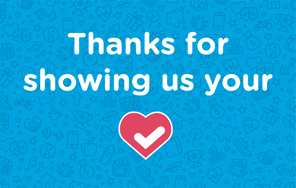 Group HEART Classes:

Supporting our employees' Physical & Mental Wellbeing

Virtual classes dedicated to getting our minds and bodies moving. We will have a new daily workout for each day of the week to inspire our group to get moving with short clips. In addition, we will have an instructor offer virtual classes to inspire employees to get their bodies moving during the work day.
Show your HEART Hour:

Supporting our employees' Social and Family Wellbeing

In each office we will have posters designed where employees can share their HEART. This involves writing down one thing they'll do to focus on their own or their family's wellbeing throughout the year. This can also be a space where they thank others or share their appreciation for how someone has helped them focus on their wellbeing.
In-Office EAD Celebration:

Supporting our employees' Social & Career Wellbeing

We end Employee Appreciation Week with an in-office celebration by our Experience Teams. Featuring healthy snacks and on-site wellbeing activities for all employees. All our benefits battle cards will be found in offices to share with family and friends. Along with the opportunity to create handwritten thank you notes and recognition.
HEART Virtual Roadshow:

Making Wellbeing the HEART of everything we do

Our virtual roadshow marks our HEART launch. Each day will be dedicated to a different pillar of wellbeing. This will mark the launch of HEART hubs globally and eCards and benefits one sheeter. Prizes to the most engaged on boom!
Leadership Thank You Video:

Making Wellbeing the HEART of everything we do

Our Leadership Team recognizes that everyone is more effective and productive when they proactively take care of their wellbeing. They are well-versed in all aspects of our wellbeing programs so that they can encourage their teams to participate in the activities and offerings that work best for them. The final part of our celebration will be a thank you video from the leadership team to all RG employees! Each member will record a video with a note of thanks and a commitment to help every employee achieve their health and wellbeing goals with Healthy Everyday Actions Reached Together.

Interested in learning more about our company-wide celebrations and events? Or maybe you'd like to work at a company that appreciates its people and celebrates their work? Take a look at rg.co/careers. We've got lots of opportunities across the company and we'd love to hear from you.