At Reward Gateway, our Engineering team are responsible for developing and shipping huge, feature-rich products and tools for our platform; scalable technical solutions enabling thousands of companies to engage over five million employees daily. In this series, we sit down with a few of our superstar Engineers - from RG Newbies to Developers who have been with us for over a decade - to find out what it's like to work at Reward Gateway, what inspires them as Engineers and what up-and-coming Engineers need to know to score a fantastic career and make their own world a better place to work.
We spent five minutes catching up with Sajuna Fernandes, Director of Engineering. From joining a team of 5 to now directing an engineering team of over 60 talented professionals, Saj reveals the secrets of growing as an Engineer — and what he's looking for in a colleague.
Hey, Saj. What do you do at RG?
I joined Reward Gateway in 2012, originally as a software engineer in quite a small team of 5 people. In the 10 years I've been at RG since, I've progressed through a number of roles across Engineering; I was a Senior Software Engineer before going on to be the Technical Lead for a small team, and then went on again to be the Principal Engineer for a few teams. Since last year, I've gone on to be the Director of Engineering, so now I'm responsible for the entire engineering team!
That's a lot to take on. Was that always something you wanted to do? Had you always wanted to lead a team or follow that career path?
[Laughs] Everyone asks me the same question! How could I stay for 10 years? The truth is that I've been with Reward Gateway through some serious growth; I joined when the business was quite small and now we have, you know, 2500+ clients.
So naturally, I've had the opportunity (and the necessity) to experiment with lots of different technologies over time. We'd always get new and unexpected challenges thrown our way, especially for a small team trying to scale our products. So, it was a great opportunity for me to learn and grow — a lot.
And, to me, the most important thing is to learn, so that's what's kept me in the job. Even to this day, I'm still learning.
It's motivating to hear that. In previous jobs, I've often found it a little scary when teams grow that quickly; it can be exciting but also a bit nerve-inducing to expand a team you know and love, to get used to working with new people. How have you found that growth as Engineering lead?
At first, it WAS a little scary. If you think about it, it is like writing a book, and suddenly there are 30 people writing that book. It could sometimes be difficult to control or maintain standards and monitor what's going on.
But in my new role, I love the change. I love when new people come on board and bring us an outside perspective, something we might not have looked at before or even thought about. So I've grown to like that challenge. Having new engineers, specifically from various different industries, has given us a great depth of knowledge and breadth of ideas as well.
Tell us about what you've been working on (if you can!)? Are there any launches or products you've developed lately you're passionate about?
We overhauled our analytics solution recently, which was actually a huge project with many people involved. It was a 10-year-old platform, so since then, customer demands and technology have changed dramatically, plus now we have clients with hundreds of thousands of employees each. We had terabytes of data.
We had to completely transform how we do analytics in the business. But we also took the opportunity to take a completely new approach this time around. We named it "event-driven data design", which was actually an idea from one of our newest team members.
It was an intense but really successful project. We now have real-time dashboards for all of our clients, which they can access to slice and dice their data, available every second of the day.
You mentioned you enjoyed experimenting with new tools and learning new processes. Is that something you get to do a lot at RG?
That's one of the key things that are important to me about RG. We are very open and flexible to all new ideas.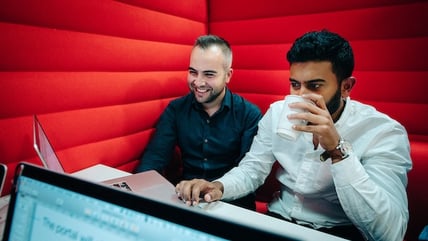 Whatever it is, whoever they are, if someone comes up with a great idea, and they propose it, everyone's open to it. There is no resistance to change and experimentation, even in projects. We allow and encourage engineers to experiment and find the best way to do it.
Plus, we do hackathons. We run an RG Hackathon once a year. It's a big event — across two days, where we allow developers to work on whatever they like, usually in smaller teams. After two days of programming, they come and present their ideas to the judging panel. Our judges select some winners and there are a few surprises along the way.
Tell us three things that have kept you at RG for so long?
We have an amazing culture, and it's one that is spread across the globe. People are really friendly and supportive of each other. In engineering, we are a very cohesive unit, despite being international. That's the main thing for me.
Learning. Like I said earlier, I'm constantly learning and getting challenged. Every day, clients, customers, internal staff, and even our CTO or my team who report to me challenge me, which I really like.
I love the product because I genuinely believe it makes a difference in people's lives. I've been on the phone with customers and been on our support desk, and I've seen how Reward Gateway makes a drastic difference. Especially now that the cost of living is going up, our product is becoming even more valuable to customers.
That's why I'm here.
Finally, what advice would you give to someone thinking of applying for a role at RG?
Be open-minded. Don't be afraid to get challenged; not in the sense that "here's a deadline, do it by X", but more in the sense that we want you to bring your ideas and new approaches.
There are always challenges we want to solve, and that's what we need engineers for. Regardless of how experienced you are. Just bring your best ideas and a passion for learning.
Inspired? We're always looking to grow our Engineering teams to work with more great people like Saj, to help us in our mission of making the world a better place to work. If you're ready for a new challenge in your engineering career, regardless of what stage you're at, we'd love to hear from you. Check out our open roles here. Or, find more inspiration and follow what we're up at rg.co/lifeatrg