At Reward Gateway, our Engineering team are responsible for developing and shipping huge, feature-rich products and tools for our platform; scalable technical solutions enabling thousands of companies to engage over five million employees daily. In this series, we sit down with a few of our superstar Engineers - from RG Newbies to Developers who have been with us for over a decade - to find out what it's like to work at Reward Gateway, what inspires them as Engineers and what up-and-coming Engineers need to know to score a fantastic career and make their own world a better place to work.
Based in our Bulgarian office, Dragomir has gone from bug fixer to team leader. Find out about his journey at RG and advice for aspiring engineers.
Hi Dragomir. Tell me a bit about your day-to-day at Reward Gateway— how long have you been here and what sort of thing do you get up to?
I've been at RG for a little over 7 years. Currently, I'm managing our Integrations Team, which means I keep track of my team's progress. This involves tracking everything that's happening with our software integrations, understanding and resolving any issues or concerns, and communicating with stakeholders and clients to keep iterating and be responsive to feedback.
Were you expecting to be at RG this long?
Honestly, I never joined the company with the expectation to stay this long. I originally joined RG because I wanted to develop myself, develop my technical skills and above all develop my soft business skills. To be able to grow.
How do you manage working with a big team across multiple locations?
It was a challenge, at first, to be able to start communicating my work not just with the wider teams but also to non-technical people. Hopefully, that's something I've been able to improve since being at RG the past few years.
Do you have to be a self-starter? Is there an opportunity to learn while you're on the job?
That's the thing — if you want to develop yourself, like grow your soft skills, [Reward Gateway] has it there for you to grab, and the chance to learn as you progress. It is up to you to take that initiative and find how you enjoy working best. There's support from your team to help each other grow, and I've always had my line manager to support me.
When I started at RG I was helping other teams and fixing bugs, but then my team's responsibility changed to scaling our systems. This gave me the chance to learn something new, and be able to learn new techniques on my own, before eventually going on to lead the development of my own feature.
That gives me a good opportunity to ask — so what IS coming up or is in the pipeline that you're excited about?
Our main focus is to grow and develop our Integrations Marketplace right now. We want to welcome more and more microservices onto our platform. Basically, enabling our software marketplace to be more scalable and integrated with third parties.
Hopefully, this would give our clients a lot more options to integrate with us. It's also been really educational for me to see and understand how people in a similar industry or role build their own tools and integrations. You learn every day just from watching people do their work.
So how do you approach a project? Is it in sprints?
Absolutely, we love a sprint. But, for example, when a new integration or client comes in, we'll do some discovery sessions; finding out how their technology could best work with ours. We'll make diagrams or use-cases about how our systems can best work.
Then, we get the chance to present that to our stakeholders. Once we're in agreement, we'll begin building right away, basically making the most basic version, and we keep iterating on that to make a great integration.
You mentioned you'd been at RG for about 7 years now. What's kept you here all this time?
The people around me. They're amazing people and colleagues, I can work with them very easily and I hope it's the same for them.
Do you mean internationally too? I can imagine it's hard to work on projects across lots of different time zones or geographies?
Absolutely, I've been communicating with colleagues in the US and Australia a lot more lately, and they're all pretty amazing people. It can obviously sometimes be a challenge with the time zones, but the people and culture that RG provided have been amazing, plus the benefits.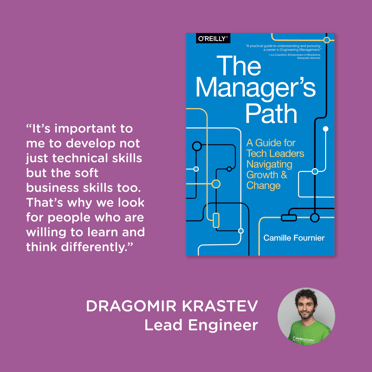 What benefits do you mean? Are there tools/etc you find particularly valuable as an engineer?
Absolutely. Our engineering team gets free access to Pluralsight, which has been amazing for me and my team to learn from. I also use the Book Benefit, which allows us to purchase any amount of books we're interested in.
Any in particular?
The Manager's Path by Camille Fournier was really useful.
You mentioned you're always looking to expand your team too. What advice would you give to someone who was starting out, and what are you looking for in a colleague?
Above all, we're looking for people who aren't afraid to learn, develop themselves and think differently. We don't necessarily or always look for senior developers; we're more concerned about finding people with the right fit and desire to grow, both professionally and personally.
Inspired? We're always looking to grow our Engineering teams to work with more great people like Dragomir, to help us in our mission of making the world a better place to work. If you're ready for a new challenge in your engineering career, regardless of what stage you're at, we'd love to hear from you. Check out our open roles here. Or, find more inspiration and follow what we're up at rg.co/lifeatrg